Our Team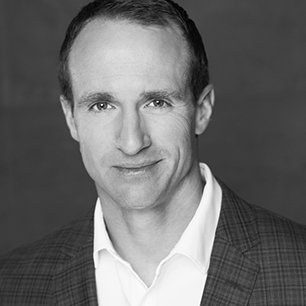 Drew Brees
Partner
Drew Brees is the 2009 Super Bowl MVP-winning quarterback for the New Orleans Saints. A native of Austin, TX, Brees attended Westlake High School and lettered in football, basketball, and baseball and as a senior in 1996 led his football team to a perfect 16-0 record and the 5A State Championship while garnering 5A Offensive Player of the Year honors. He attended Purdue University where he earned a bachelor's degree in Industrial Management from the prestigious Krannert School of Management while lettering in football from 1997-2000. A two-time Heisman finalist, Brees led the Boilermakers to a Big Ten Championship and Rose Bowl appearance during the 2000 season. In that same year he won the Maxwell Award as the nation's top collegiate player as well as being named Academic All-American Player of the Year and was a recipient of the National Football Foundation's post-graduate scholarship.
In Brees' five years with the San Diego Chargers and ten years with the New Orleans Saints, he has been elected to ten Pro Bowls while being named 2004 Comeback Player of the Year, 2006 All-Pro Team, 2006 Walter Payton NFL Man of the Year, 2008 and 2011 NFL Offensive Player of the Year, and Super Bowl XLIV Champion and MVP. Drew is currently the NFL Passing Yards leader.
As much pride as Brees takes in his on-field performance, he takes even more pride in his community service endeavors. Drew and his wife, Brittany, established the Brees Dream Foundation in 2003 and since then have contributed and/or committed almost $25,000,000 to help improve the quality of life for cancer patients and provide care, education and opportunities for children and families in need. Brees has also proudly participated in five USO trips to Kuwait, Iraq, Afghanistan, Germany, Turkey, Djibouti, Dubai, Okinawa, and Guantanamo Bay.
Inspired by stories with motivating messages and wanting to take a more active role himself in telling these stories (like the documentary GLEASON), Drew became a partner in Argent Pictures in 2017.